Purchase Planting Hope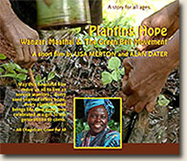 Planting Hope – Wangari Maathai and the Green Belt Movement
DVD (7 min.)
Appropriate for all ages, this inspiring seven-minute film focuses on Wangari and the tree-planting women of the Green Belt Movement. This is a great complement to your tree-planting activities and classroom curricula.
"This little gem captures the heart and soul of the Green Belt Movement, planting inspiration and joy."
Wanjira Mathai, Chair, Green Belt Movement
"Wangari's success planting trees in Kenya is a reminder of how trees support life everywhere. This short DVD will energize the faithful and change minds."
Alice Ewen Walker, Executive Director
Alliance for Community Trees
Please opt in below if you want the printed 'Taking Root Action Guide' to be included with your order:  $10.00 plus $6.00 shipping and handling.
This short film is currently shipped by Marlboro Productions to all customers for home or educational / organizational use. We usually ship within five business days.
If you are interested in more than 20 copies of this DVD, please contact Marlboro Productions directly: takingrootfilm@gmail.com or 802-257-0743 (M-F; 9am to 4pm EST).
Visit MarlboroProductions.com for other films by Lisa Merton and Alan Dater