Purchase DVDs for Educational and Community Organization Use
Thank you for your interest in our film. Due to different distribution contracts and licensing, DVDs are sold from different sources.
Educators and community organizations, please respect purchasing and screening guidelines. Your support of Taking Root: The Vision of Wangari Maathai supports the continued work of independent documentary filmmakers.
Note: If you are an NGO, community organization or individual working to address environmental sustainability, environmental justice, human rights, and grassroots empowerment in your own community outside of the U.S., you may be eligible to use the film at no charge. Learn how to TAKE ACTION and organize in your community.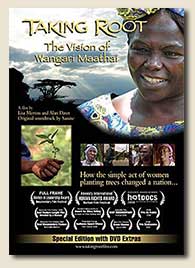 Includes:
80-minute feature with closed captions
53-minute broadcast version with closed captions
and many extras (see below)
Taking Root: The Vision of Wangari Maathai
Educational & Community Organization Use DVD
For Universities and Community Organizations ANYWHERE EXCEPT CANADA: Please go to New Day Films for sales to U.S. universities, colleges, schools, community organizations or libraries.

For CANADIAN customers:Canadian Universities & Community Organizations: Order the film by contacting Terry Brandwein at terry@criterionpic.com or 1-800-565-1996, ext. 223.
Canadian High Schools and Public Schools: Order the film by contacting Diana Baudich at diana@criterionpic.com or 1-800-668-0749, ext. 220.
DVD Extras:
Conditions on the Land [1:34]
Wangari in the Indigenous Aberdare Forest [10:23]
Culture and Colonialism [7:35]
The Fig Tree and Praying for Rain [0:40]
Mau Mau [3:56]
The Years of Fear [5:28]
The Green Belt Movement

Programs and Goals [0:44]
Environmental Conservation and Tree Planting [10:34]
Civic and Environmental Education Workshops. (CEE) [7:06]
Food Security: CEE Workshop [4:14]
The "Hut Tax": CEE Workshop [3:03]
Women for Change [8:01]
The Kahuro Market Story [2:48]

The Karura Forest Protests [6:13]
Wangari: The Early Years [6:10]
Wangari: "A Strong African Woman," from a BBC interview [4:49]
Wangari: The Hummingbird Story [2:31]
The Nobel Peace Prize [4:41]
ISBN: 978-1-57448-237-9     www.takingrootfilm.com
Visit MarlboroProductions.com for other films by Lisa Merton and Alan Dater